Bed and Breakfast Room Options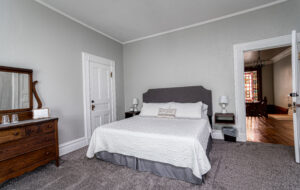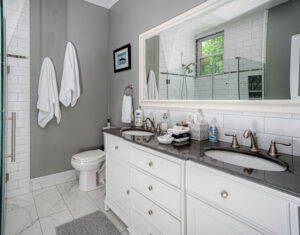 1 King Bed with En Suite Bathroom – Sleeps 2
The Tracy Room
Named for the original resident of this home, Charles L. Tracy, and his wife, Eliza Frances Holcomb Tracy, the room once served as the master bedroom of this roomy home. It features a King Bed, chair for relaxing or reading by the window, and a desk for business or other work.  The En-Suite Bathroom features a double vanity, large mirror, tile  floors and a walk-in glass shower stall.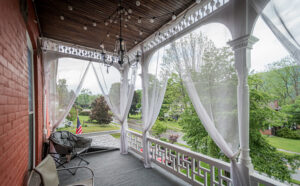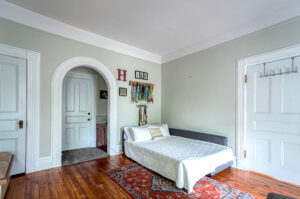 Sleeps up to 6 – 1 King Bed (sleeps 2), sleeper sofa (sleeps 2), 2 pull out twin cots (sleeps 2)
The Tracy Room Suite
As its name implies, this room includes all of the ammenities of the Tracy Room and then some.  You will enjoy a comfortable, adjoined sitting room for rest and relaxation apart from the bedroom, along with access to the 2nd floor balcony overlooking the front yard and York Ave.  In the summer, let down the mesh curtains for a little more privacy and freedom from insects on those warm summer evenings.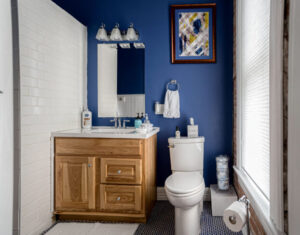 1 King Bed with En Suite Bathroom – Sleeps 2
The Sullivan Room
The room features a King Bed and an adjoining bathroom.  This room, in the back of the Bed and Breakfast, is the quietest of all the rooms.  Named for Bradford County's neighbor to the south and the boyhood home county to one of the Bed and Breakfast's owners, this bedroom is named for Sullivan County Pennsylvania.  Separated from Lycoming County, Sullivan County was created in March 1847 and named for Charles C. Sullivan, leader of the Pennsylvania Senate at the time and instrumental in establishing the county.
1 Queen Bed with En Suite Bathroom – Sleeps 2
The Bradford Room
The room features a Queen Bed and an en suite bathroom including a single vanity, walk in shower with glass panel, and toilet.
Being in Bradford County, what better name could there be for this bedroom.  In October 1812 the county was separated from Lycoming County and renamed for William Bradford, who had been a chief justice of the Pennsylvania Supreme Court and United States Attorney General.